iDrone Initiative: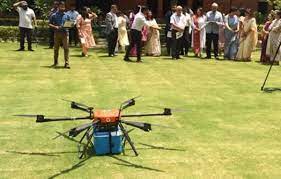 The Indian Council of Medical Research (ICMR) has successfully conducted a trial run of delivery of blood bags by drones under its iDrone initiative.
The trial run has been undertaken for the first time in the country by the ICMR; Lady Hardinge Medical College (LHMC); Government Institute of Medical Sciences (GIMS), Greater Noida; and the Jaypee Institute of Information Technology (JIIT), Noida.
The inaugural trial flight carried 10 units of whole blood samples from the GIMS and LHMC in visual line of sight.
The project 'i-DRONE'(ICMR's Drone Response and Outreach for North East) assessed the feasibility of using drone to deliver vaccines and medical supply.
This was carried out in difficult geographical terrains including land, island, foothills and across the hills.
The medical supplies delivered under i-Drone project included COVID-19 vaccines, vaccines used routine immunisation programs, antenatal care medicines, multi-vitamins, syringes and gloves.
The drone delivery system focused on end-to-end ecosystem for drone-based logistic transportation within the states and was first successful example of delivering vaccines through drone from land to Island in South Asia.