Geoglyph: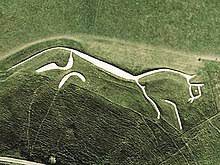 A geoglyph in the form of a circle said to be 3,000 years old has been recently unearthed on the outskirts of Mudichu Thalapalli in the Medchal-Malkajgiri district of Telangana.
Geoglyph is a large design or motif (generally longer than 4 metres) produced on the ground and typically formed by clastic rocks or similarly durable elements of the landscape, such as stones, stone fragments, gravel, or earth.
A geoglyph is created by arranging or moving objects within a landscape.
There are two types of geoglyphs, namely positive and negative geoglyphs.
It is formed by the arrangement and alignment of materials on the ground in a manner akin topetroforms (which are simply outlines created using boulders).
It is formed by removing part of the natural ground surface to create differently coloured or textured ground in a manner akin to petroglyphs.
There is another variation of a geoglyph that involves seeding plants in a special design. The design usually takes years to see since it depends on the plants growing. This type of geoglyph is called an arbour glyph.
Another type of geoglyph often referred to as 'chalk giants' are those carved into hillsides, exposing the bedrock beneath.
Geoglyphs:
From ancient times, the most widely known geoglyphs are the Nazca Lines of Peru, which have been a mystery to this day.
Other geoglyphs from the past include the Megaliths in the Urals, the Uffington White Horse, the Long Man of Wilmington, and many others.