Subramaniya Bharathiyar: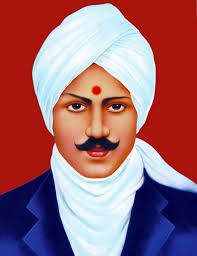 Vice-President recently paid homage to Subramania Bharati to mark the death centenary of the poet and freedom fighter.
About Subramaniya Bharathi:
Born on 11th December 1882, in Ettayapuram village of Tirunelveli District in Tamil Nadu.
He was a poet, freedom fighter and social reformer from Tamil Nadu.
He was known as Mahakavi Bharathiyar.
His songs on nationalism and freedom of India helped to rally the masses to support the Indian Independence Movement in Tamil Nadu.
Literary works: "Kannan Pattu" "Nilavum Vanminum Katrum" "Panchali Sabatam" "Kuyil Pattu".
He published the sensational "Sudesa Geethangal" in 1908.
Sometime in mid-1908, Bharati began to serialise Gnanaratham in his political weekly, India.
In 1949, he became the first poet whose works were nationalised by the state government.
He was against caste system. He declared that there were only two castes-men and women and nothing more than that. Above all, he himself had removed his sacred thread.
He condemned certain Shastras that denigrated women. He believed in the equality of humankind and criticised many preachers for mixing their personal prejudices while teaching the Gita and the Vedas.