Glasgow Climate Pact: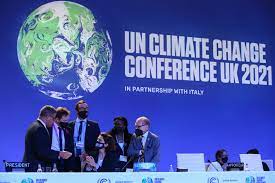 The commitment of recent Glasgow Climate Pact to strengthen our commitment to combat climate change by restricting global temperature rise to 1.5 degrees Celsius over pre-industrial levels
India and CoP-26: At CoP26, India pledged to become a 'net zero' carbon emitter by 2070, and announced enhanced targets for renewable energy deployment and reduction in carbon emissions.
Some major steps taken by India in recent times to meet climate change targets:
The share of renewable energy in India's energy mix has more than doubled from 11.8 per cent in March 2015 to 25.2 per cent in July 2021
India has outlined several programs under its ambitious, 'National Action Plan on Climate Change (NAPCC)'
Setting up 'International Solar Alliance' to coordinate effort and institute measures to make use of the abundant renewable energy in the environment
FAME Scheme for E-mobility: Union Government in April 2015 launched Faster Adoption and Manufacturing of Hybrid and Electric vehicles (FAME) – India Scheme with an aim to boost sales of eco-friendly vehicles in the country. It is a part of the National Mission for Electric Mobility.
Atal Mission for Rejuvenation & Urban Transformation (AMRUT) for Smart Cities.
Pradhan Mantri Ujjwala Yojana: The scheme provides LPG connections to five crore below-poverty-line beneficiaries. The connections are given in the name of women beneficiaries to reduce their dependence on fossil fuels and conventional fuel like cow dung for cooking food, thus reducing air pollution.
UJALA scheme: The scheme was launched by the Prime Minister Narendra Modi in January 2015 with a target of replacing 77 crore incandescent lamps with LED bulbs. The usage of LED bulbs will not only result in reducing electricity bills but also help in environment protection.
Swachh Bharat Mission: Swachh Bharat Abhiyan (Clean India Movement) is a campaign that was launched by Prime Minister Narendra Modi on October 2, 2014.
The campaign seeks to clean the streets, roads and infrastructure of the country's 4041 statutory cities and towns.