Global-Bio India 2021: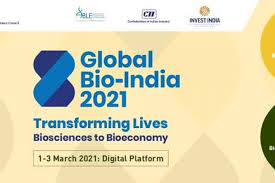 The Union Minister for Science & Technology, Earth Sciences and Health & Family Welfare Dr Harsh Vardhan inaugurated the second edition of Global Bio-India-2021 in New Delhi through virtual mode.
The three-day event will be held from March 01 to 03, 2021, on a digital platform.
The purpose of the event is to showcase the strength and opportunities of the biotechnology sector of India at the national as well as international level.
The Government of India has a target of building a USD 150 billion bio-economy by 2025.
The theme of Global Bio-India-2021: "Transforming lives" with the tag line "Biosciences to Bio-economy".
The event is co-organized by the Department of Biotechnology under the Ministry of Science & Technology along with its Public Sector Undertaking, and Biotechnology Industry Research Assistance Council (BIRAC) in partnership with industry association Confederation of Indian Industry (CII), Association of Biotechnology Led Enterprises (ABLE) and Invest India.