Ubharte Sitaare Alternative Investment Fund: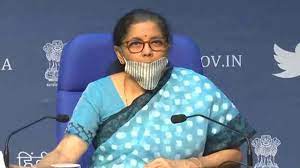 The Ministry of Finance has launched 'Ubharte Sitaare' Alternative Investment Fund to facilitate debt and equity funding to export-oriented MSMEs (Micro Small and medium Enterprises).
The fund is expected to identify Indian enterprises with potential advantages, but which are currently underperforming or unable to tap their latent potential to grow.
Under the scheme, an identified company is supported even if it is currently underperforming or may be unable to tap its latent potential to grow.
The scheme diagnoses such challenges and provides support through a mix of structured support covering equity, debt and technical assistance.
It will also have a Greenshoe Option of Rs 250 crore.
A greenshoe option is an over-allotment option, which is a term that is commonly used to describe a special arrangement in a share offering for example an IPO (Initial Public Offering) that will enable the investment bank to support the share price after the offering without putting their own capital at risk.
The fund has been set up jointly by Exim Bank and SIDBI (Small Industries Development Bank of India) which will invest in the fund by way of equity and equity-like products in export-oriented units, in both manufacturing and services sectors.