Global Innovation Index 2021: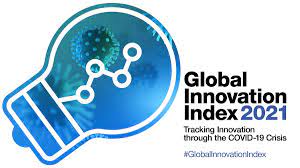 India has climbed 2 spots and has been ranked 46th by the World Intellectual Property Organization (WIPO) in the Global Innovation Index 2021 rankings.
India has been on a rising trajectory, over the past several years in the Global Innovation Index (GII), from a rank of 81 in 2015 to 46 in 2021.
The GII report is published by WIPO in partnership with the Portulans Institute, with support of corporate network partners, such as the Confederation of Indian Industry, Brazilian National Confederation of Industry, Ecopetrol Group (Colombia), and the Turkish Exporters Assembly.
Lauding India's efforts, the GII report said that selected middle-income economies are changing the innovation landscape, starting with China; Turkey, Vietnam, India, and the Philippines now pulling their weight.