Global Food Regulators Summit 2023: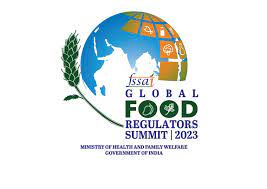 Delhi is all set to host the Global Food Regulators Summit 2023
First time this prestigious event will take place in the Indian capital.
The Food Safety and Standards Authority of India (FSSAI) is at the helm of organizing this significant gathering.
Scheduled for July 20-21, 2023, the summit aims to bring together food regulators from over 40 countries and representatives from 30 international organizations.
The Global Food Regulators Summit 2023 will serve as a platform for food regulators from various countries to come together, share knowledge, and exchange best practices.
With participation from over 40 countries, the summit promises to foster collaborative efforts in enhancing food safety standards worldwide.
A Global Theme : The theme of the summit, "One Earth, One Family, One Future," aligns perfectly with India's G20 Presidency.
This theme highlights the importance of global unity and cooperation in addressing the challenges and opportunities surrounding food safety.
Initiative that will be introduced at the summit is the SaNGRAH platform (Safe food for Nations: Global Food Regulatory Authorities Handbook).
The summit will also witness the launch of a Common Digital Dashboard, a unified IT portal that will provide comprehensive information on food safety standards, regulations, notifications, advisories, guidelines, contamination limits, and the latest developments by Food Regulators in India.