Global Report On Food Crises 2023: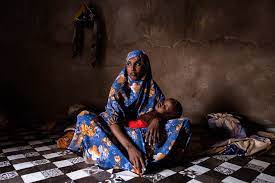 The Global Report on Food Crises (GRFC) for 2023 reveals that the number of people suffering from acute food insecurity has increased, with over 258 million people across 58 countries and territories facing acute hunger.
Global Report on Food Crisis is an annual report to achieve a consensus-based assessment of acute food insecurity in the world
Released by Food Security Information Network (FSIN) and Global Network against Food Crises (GNAFC).
FSIN is a global initiative co-sponsored by Food and Agriculture Organization (FAO), World Food Programme (WFP), and International Food Policy Research Institute (IFPRI) to strengthen food and nutrition security information systems for producing reliable and accurate data to guide analysis and decision-making.
GNAFC is an alliance of humanitarian and development actors founded by the European Union, FAO, and WFP in 2016 to prevent, prepare for and respond to food crises and support the Sustainable Development Goal to End Hunger (SDG 2)
The number of people experiencing acute food insecurity increased for the fourth consecutive year in 2022
Acute Food Insecurity refers to a situation where a person's or household's access to adequate food and nutrition is severely limited, resulting in a high risk of starvation or death.