Global Food Policy Report 2023: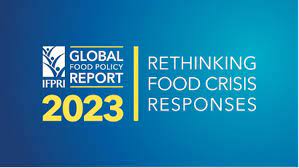 The International Food Policy Research Institute (IFPRI) published Global Food Policy Report, 2023 which said that investing in early warning systems is essential to save lives, livelihoods and money.
Highlights of the report:
The report called for a more proactive response to food system shocks with a focus on three key areas:

Crisis prediction and preparation
Building resilience before and during crises
Making crisis response supportive and inclusive of women, forced migrants and other vulnerable groups.

It advocated for strengthening agrifood value chains to support livelihoods and food security during crises.
It advised governments to maintain a business environment that fosters flexibility, and technical and financial innovation.
International Food Policy Research Institute (IFPRI):
It was established in 1975 and provides research-based policy solutions to sustainably reduce poverty and end hunger and malnutrition in developing countries.
Headquarters: Washington, D.C
It is a research centre of CGIAR, which is the world's largest agricultural innovation network.