Chachin Grazing Festival: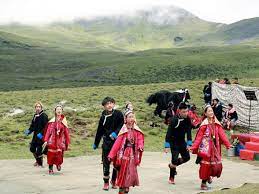 The Chachin Grazing Festival recently took place in the Tawang region.
This two-day event held at Chachin brought together local graziers from all over the region to celebrate their traditional occupation and honor their cultural heritage.
The Monpa lifestyle, deeply rooted in the region, revolves around nomadic herding.
The graziers depend on this primitive form of subsistence farming to sustain their livelihoods.
Throughout history, the Chachin and adjacent grazing regions in close proximity to Bumla Pass have played a crucial role in supporting and sustaining the traditional way of life of the local Monpa community.
During the festival, several initiatives were undertaken to support the local graziers.
A medical camp was set up to provide essential healthcare services to the graziers, who often reside in remote areas lacking access to urban medical facilities.
A veterinary camp was organized to ensure the well-being of the yaks, the livestock of the graziers.
A lecture on animal health aimed to equip the graziers with knowledge for better livestock care.