Global Land Outlook Report: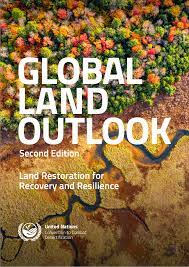 According to the 2nd edition of the Global Land Outlook (GLO) report, humans have breached four out of nine planetary boundaries.
GLO is a United Nations Convention to Combat Desertification's (UNCCD) flagship publication, whose 1st edition was launched in 2017 at the UNCCD COP13 (China).
It underscores land system challenges, showcases transformative policies and practices, and points to cost-effective athways to scale up sustainable land and water management.
Highlipghts of the report:
It is the operative link between biodiversity loss and climate change, which means restoring land is crucial for solving interconnected crises.
Planetary boundaries are the environmental thresholds that establish a "safe operating space for humanity"
Humans have already altered more than 70% of the earth's land area from its natural state.
Of the 9 planetary boundaries, climate change, biodiversity loss, land-use change, and geochemical cycles have already been exceeded.