Global Trade Outlook and Statistics : WTO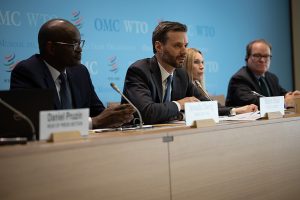 World merchandise trade will grow slower ( 1.7% in 2023) before picking up to 3.2% in 2024
Risks to the forecast are tilted to the downside, including geopolitical tensions, food insecurity, potential financial instability stemming from monetary policy tightening, and increasing levels of debt.
Trade volume growth in 2022 was slower than expected at 2.7% following a fourth quarter slump, but still stronger than worst casescenarios considered at the start of the war in Ukraine.
The value of world merchandise trade rose 12%to US$ 25.3 trillion in 2022, inflated in part by high global commodity prices.
The value of world commercial services trade increased 15% in 2022 to US$ 6.8 trillion.
Digitally delivered services exports were worth US$ 3.82 trillion in the same year.
About WTO:
The World Trade Organization (est. 1995; HQ: Geneva, Switzerland) is an intergovernmental organization that regulates and facilitates international trade. With effective cooperation in the United Nations System, governments use the organization to establish, revise, and enforce the rules that govern international trade.