Global Wind Report 2022: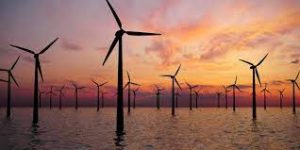 The Global Wind Report for 2022 was published by the Global Wind Energy Council (GWEC).
GWEC was established in 2005 to provide a credible and representative forum for the entire wind energy sector at an international level.
Highlights of the Report:
Wind energy installations every year across the world must quadruple from the 94 GW (Gigawatt) installed in 2021 within this decade to meet the global climate targets.
Without the necessary amplification, restricting global warming over pre-industrial levels to 1.5 degrees Celsius — a target set by the Paris Agreement — and achieving Net Zero emissions by 2050 may become difficult.
New installations of 93.6 GW in 2021 brought global cumulative wind energy capacity to 837 GW, a Year-on-Year (YoY) growth of 12%.
The onshore wind market added 72.5 GW worldwide.
That is 18% lower than the previous year due to a slowdown in China and the US, the world's two largest wind markets.
The offshore wind market enjoyed its best ever year in 2021, with 21.1GW commissioned.
New offshore installations in 2022 are likely to decline to the 2019 / 2020 levels.
Decline will be primarily due to the reduction of installations in China.
However, market growth is expected to regain momentum from 2023, eventually passing the 30GW-mark in 2026.
Offshore wind energy generation increases return on investment, along with reducing greenhouse gas emissions.
Carbon dioxide emissions can reduce by 0.3-1.61 gigatonnes every year by 2050 if offshore wind energy generation is scaled up.