The Tianzhou-2 Cargo Spacecraft: China: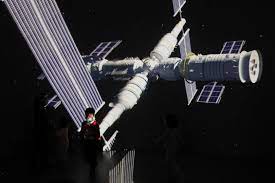 China took another step towards completing the construction of its first space station by the end of next year following the launch and docking of a cargo spacecraft.
The Tianzhou-2 cargo spacecraft, described by as "the delivery guy for China's space station", was launched on a Long March-7 rocket from the island of Hainan, and docked eight hours later with the space station's first core module called Tianhe, or "heavenly harmony".
The Tianzhou-2 spacecraft carried a range of supplies, the China Manned Space Agency (CMSA) said, and will be followed by the launch of another cargo spacecraft, Tianzhou-3, and two manned missions, Shenzhou-12 and Shenzhou-13, this year, each carrying three astronauts who will spend several months in orbit.
The Shenzhou-12 launch is slated for mid-June.
The launch was the third landmark for China's space programme in recent weeks.
China landed a spacecraft on Mars on May 15 carrying its first Mars rover, Zhurong.
The Tianhe module, which the cargo spacecraft docked with on Sunday, was launched on April 29.