Nobel Peace Prize 2022: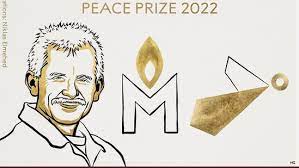 The Nobel Peace Prize for 2022 has been awarded to human rights advocate Ales Bialiatski from Belarus, the Russian human rights organisation Memorial, and the Ukrainian human rights organisation Center for Civil Liberties.
Ales Bialiatski, who is in jail since 2021, is a vocal critic of Putin's ally, President Alexander Lukashenko of Belarus. In 1995, Bialiatski founded the Belarus human rights group Viasna (Spring).
He was first jailed in 2011 for evading taxes.
He was released in 2014, before being arrested again in 2021 during mass public protests in Minsk against elections that opposition activists said had kept Lukashenko in power the previous year.
Memorial group of Russia : It was established by human rights activists in the former Soviet Union during the Gorbachev years of glasnost and perestroika, and among its founders were 1975 Nobel Peace Prize laureate Andrei Sakharov and Russian mathematician Svetlana Gannushkina.
Its objective was to record atrocities committed during the communist regime, especially under Joseph Stalin. After the collapse of the Soviet Union, Memorial grew to become the largest human rights organisation in Russia.
Center for Civil Liberties, Ukraine :It is a Ukrainian rights organisation that is documenting alleged war crimes by Russia in Ukraine.
The Center was founded in Kyiv in 2007 with the aim of advancing human rights and democracy in Ukraine.