Type 1 Diabetes: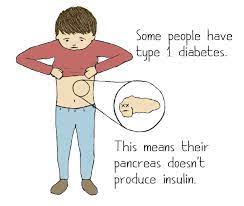 Good control of not only blood sugar but also blood pressure and cholesterol is essential for survival and a good quality of life among Type 1 diabetics (T1D), according to a pan-India study of long-term survivors with the condition.
A first-of-its kind report of long-term survivors of T1D from India, a multi-centric study was published in the peer-reviewed journal Diabetes Technology and Therapeutics.
Comparing survivors for over 40 years with people who did not survive up to 40 years, the researchers found that "survivors had better glycemic and blood pressure control, more favourable lipid profiles and lower prevalence of complications compared to non-survivors".
Individuals with T1D have increased morbidity and excess premature mortality compared to those without diabetes and their life expectancy is reduced by an estimated 15-20 years, even with the life-saving insulin to their assistance. However, long-term survival with T1D is possible
India is home to more than 95,000 children with T1D, reported to be the highest in the world, according to the 9th International Diabetes Federation Atlas.