Prime Minister Of India Gift To Japanese Prime Minister: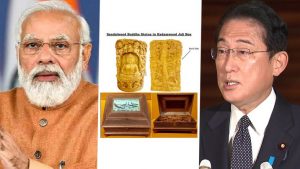 The Prime Minister of India presented a sandalwood Buddha statue to Japanese Prime Minister Fumio Kishida during the latter's two-day state visit to India.
Sandalwood Buddha statue made of pure sandalwood, has hand carvings along with traditional designs and natural scenes.
In this posture, Buddha is sitting in 'dhyana mudra' under the Bodhi tree.
The 'dhyana mudra' is the mudra of meditation and the attainment of spiritual perfection.
According to tradition, this mudra derives from the one assumed by the Buddha when meditating under the Bodhi tree before his enlightenment.
The obverse of the image has an intricate carving of the Bodhi tree.
The Kadamwood Jali Box in which the statue was encased is also considered auspicious in Indian culture.
The art of sandalwood carving is an exquisite and ancient craft that has been practised in Karnataka for centuries.