Greater Malé Connectivity Project (GMCP)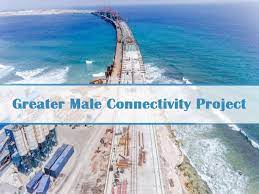 The Maldives government officially signed an agreement with Mumbai-based company AFCONS, for the construction of the Greater Malé Connectivity Project (GMCP).
This infrastructure project, the largest-ever by India in the Maldives, involves the construction of a 6.74-km-long bridge and causeway link that will connect the Maldives capital Malé with the neighbouring islands of Villingli, Gulhifalhu and Thilafushi.
This project was funded by India in a grant of $100 million, with a line of credit of $400 million.
This project is significant because it facilitates inter-island connectivity in the country
The GMCP is not only the biggest project India is doing in the Maldives but also the biggest infrastructure project in the Maldives overall.