UN Human Rights Council: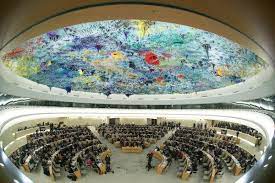 India has been re-elected to the UN Human Rights Council (2022-24) for a record 6th term with an overwhelming majority and vowed to continue to work for the promotion and protection of Human Rights through "Samman, Samvad and Sahyog."
India's current term was set to end on December 31 2021.
The UN General Assembly elected by secret ballot Argentina, Benin, Cameroon, Eritrea, Finland, Gambia, Honduras, India, Kazakhstan, Lithuania, Luxembourg, Malaysia, Montenegro, Paraguay, Qatar, Somalia, UAE and the US.
The United States, which had quit the council in 2018 under the previous Donald Trump's regime, was re-elected to the global rights body for a period of three-and-a-half years.
UN Human Rights Council is an inter-governmental body within the United Nations system which consists of 47 Member States elected directly and individually by secret ballot by the majority of the members of the General Assembly.
The members of the Council shall serve for a period of three years and shall not be eligible for immediate re-election after two consecutive terms.
The membership is based on equitable geographical distribution, and seats are distributed among regional groups Group of African States (13), Group of Asia-Pacific States (13), Group of Eastern European States (6), Group of Latin American and Caribbean States (8) and Group of Western European and other States (7).