Gujarat Declaration : WHO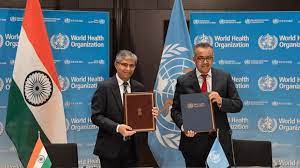 World Health Organization (WHO) has released the outcome document of the first WHO Traditional Medicine Global Summit 2023 in the form of the "Gujarat Declaration".
India hosted the first WHO Global Traditional Medicine Centre in Gujarat.
The declaration reaffirmed global commitments towards indigenous knowledge, biodiversity and traditional, complementary and integrative medicine.
The Gujarat Declaration aims to advance evidence-based traditional medicine interventions for universal health coverage and health-related Sustainable Development Goals (SDGs).
It calls for standardized documentation and data collection on traditional medicine.
The summit explored the role of digital health technologies, including AI, in traditional medicine.