World Toilet Day 2022: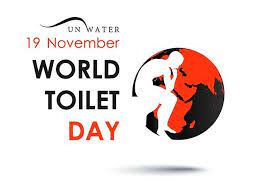 Each year World Toilet Day is observed on the 19th November to raise awareness about the importance of sustainable sanitation to keep people healthy.
The theme for 2022: " Making the invisible visible "
World toilet day is observed annually since 2013.
Aim It is about taking action to tackle the global sanitation crisis and achieve Sustainable Development Goal (SDG) 6: sanitation and water for all by 2030.
The theme of this year explores how inadequate sanitation systems spread human waste into rivers, lakes and soil, polluting underground water resources.
This year, the Ministry of Jal Shakti, under the Swachh Bharat Mission Grameen (SBM-G) is organising 'Swachhta Run' across rural India.
SBM-G is recognised as the world's largest behavior change program.
India has already achieved SDG Target 6.2 pertaining to access to safe sanitation, when the entire county achieved Open Defecation Free State (ODF) status in 2019; it is persistent in its efforts to now achieve ODF+ status.