Gustavo Petro: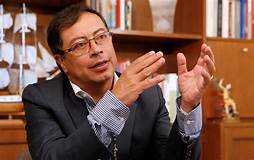 Ex-guerrilla Gustavo Petro was elected the first ever left-wing president of Colombia, after beating millionaire businessman Rodolfo Hernandez in a tense run-off election.
Petro will succeed the deeply unpopular conservative Ivan Duque, who was barred by Colombia's Constitution from standing for re-election, in a country saddled with widespread poverty, a surge in violence and other woes.
Colombia is a country in South America bordered by the Caribbean Sea to the north, Venezuela to the east, Brazil to the southeast, Ecuador and Peru to the south, the Pacific Ocean to the west and Panama to the northwest.
It is the only country in South America with coastlines and islands along both Atlantic and Pacific oceans.
Its capital is Bogotá. Colombia is one of the world's seventeen megadiverse countries.