Hamari Bhasha, Hamari Virasat: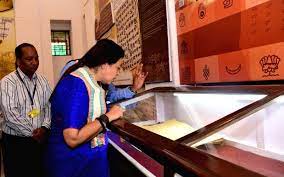 The Ministry of State for Culture inaugurated the exhibition "Hamari Bhasha, Hamari Virasat " under the Azadi Ka Amrit Mahotsav (AKAM) at the National Archives of India in New Delhi, commemorating the 75th International Archives Day.
The exhibition aims to celebrate India's linguistic diversity, highlighting its status as one of the most linguistically diverse countries globally, with approximately 788 languages spoken.
India is thus one of the four most linguistically diversified countries in the world, along with Papua New Guinea, Indonesia, and Nigeria.
The exhibition features a variety of original manuscripts, including the ancient Gilgit Manuscripts written between the 5th -6th centuries CE, which is the oldest surviving manuscript collection in India, Tattvartha Sutra (Ancient Jain Text), Ramayana, and Srimad Bhagwad Gita, among others.
The National Archives of India has made over 72,000 manuscripts available, both physically and through digitization, ensuring their accessibility to people worldwide.
International Archives Day :
It is a day of celebration and awareness of the importance and value of archives and archivists.
It is celebrated on June 9 every year, since 2008, to commemorate the date when the International Council on Archives (ICA) was created under the auspices of UNESCO in 1948.