Head Of The Janang Tradition Of Tibetan Buddhism: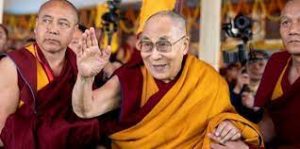 The Dalai Lama has named a US-born Mongolian boy as the 10th Khalkha Jetsun Dhampa, the head of the Janang tradition of Tibetan Buddhism and the Buddhist spiritual head of Mongolia.
This announcement has brought attention back to the larger question of the Dalai Lama's own reincarnation, which is a civilizational struggle between China and Tibetans over who controls Tibetan Buddhism.
Reincarnation in Tibetan Buddhism: According to Tibetan Buddhist tradition, the spirit of a deceased lama is reborn in a child, which secures a continuous line of succession through successive re-embodiments.
Dalai Lama is a title given by the Tibetan people for the foremost spiritual leader of the Gelug or "Yellow Hat" school of Tibetan Buddhism, the newest of the classical schools of Tibetan Buddhism.
The 14th and current Dalai Lama is Tenzin Gyatso.