Losar Festival : Beginning Of The Tibetan New Year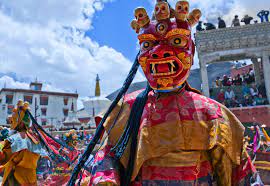 PM extended his greetings on the occasion of the Losar festival
It consists of the offering of prayers, dances, and songs in the honor of Ibex and the pilgrimage of Mount Kailash.
Losar is the Tibetan word for 'new year'
Ladakhi Buddhists make a religious offering before their deities in the domestic shrines or in the Gompas
It was developed in the pre-Buddhist era, during the 4th century AD.
The Bon religion (indigenous religious tradition of Tibet) practices the burning of incense. When Lord Buddha arrived in Tibet, this ritual was combined with the harvest celebration, and the Losar festival was born.