Pilibhit Tiger Reserve : Five-Year-Plan To Safeguard Turtles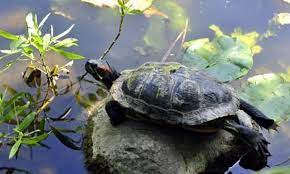 Pilibhit Tiger Reserve (PTR) has embarked on an ambitious journey by formulating its inaugural 'five-year-plan' to safeguard turtles, conduct species identification and estimate their populations both within and outside the reserve.
Pilibhit Tiger Reserve is located in Pilibhit District, Lakhimpur Kheri District and Bahraich District of Uttar Pradesh.
It lies along the India-Nepal border in the foothills of the Himalayas and the plains of the 'terai' in Uttar Pradesh.
The river Gomti originates from the reserve, which is also the catchment of several others like Sharda, Chuka and Mala Khannot.
The Sharda Sagar Dam extending up to a length of 22 km (14 mi) is on the boundary of the reserve.
Vegetation: North Indian moist deciduous type.
It is characterized by sal forests, tall grasslands and swamps, maintained by periodic flooding from rivers.
It is home to a myriad of wild animals including the endangered tiger, swamp deer, Bengal florican, hog deer, leopard, etc.