Herbig-Haro 46/47 : Image From The James Webb Space Telescope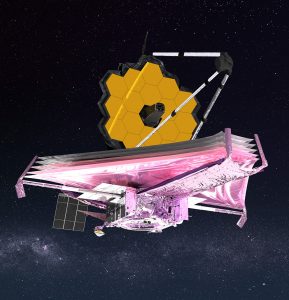 NASA recently released a high-resolution image from the James Webb Space Telescope (JWST), showing two actively forming stars known as Herbig-Haro 46/47.
These young stars are hidden within an orange-white blob surrounded by gas and dust, indicating their early stages of growth.
They will give insights into the mass accumulation of stars over time.
Observing the orange lobes helps understand how stars ejected and consumed gas, shaping the lobes over thousands of years.
James Webb Space Telescope:
It is a large, infrared telescope designed to observe the most distant objects in the universe.
It is the successor to the Hubble Space Telescope.
It is a collaboration between NASA, the European Space Agency (ESA), and the Canadian Space Agency (CSA).