The State Of Climate In Asia 2022 : World Meteorological Organisation Report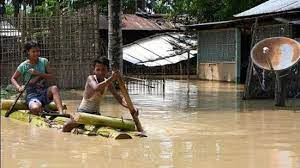 According to the State of climate in Asia 2022 report released by the World Meteorological Organisation (WMO), Asia is the world's most disaster-prone region.
One of a series of WMO regional State of the Climate reports, it was released during a meeting of the UN Economic and Social Commission for Asia and the Pacific's (ESCAP) Committee on Disaster Risk Reduction.
UN ESCAP (HQ: Bangkok; founded in 1947) is one of the five regional commissions under the jurisdiction of the United Nations Economic and Social Council.
Highlights of the report:
Over 50 million people were directly affected due to 81 weather, climate and water-related disasters in Asia during 2022.
The number of disaster events in the region decreased in comparison to 2021 (over 100 natural hazards).
But the effects of such events in 2022 were much more pronounced, with an increase in the number of fatalities, people affected and economic damage.
The economic cost of the damage has been over $ 36 billion and Pakistan accounted for 42% of this.