India-France Maritime Partnership Exercise: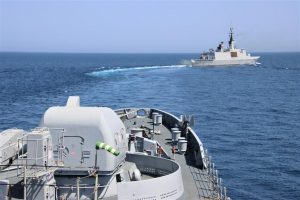 Indian Naval ships INS Rana and INS Sumedha undertook a Maritime Partnership Exercise with French Navy ship FS Surcouf in the Bay of Bengal on 30th June 2023.
India-France Maritime Partnership Exercise:
INS Rana, a guided missile destroyer and INS Sumedha, an indigenously built offshore patrol vessel were from the Indian Navy side.
The French Navy's La Fayette class frigate Surcouf participated in a variety of activities with Indian Navy ships.
The Exercise included tactical manoeuvres, replenishment at sea approaches, air defence against fighter aircraft and cross deck helicopter operations.
Location: Bay of Bengal.
The Partnership Exercise signifies the strong navy-to-navy links, interoperability and strong bonds between Indian Navy and French Navy.