herSTART Initiative: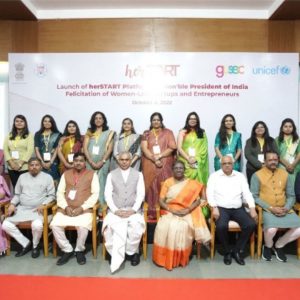 herSTART was recently launched by President of India, Draupadi Murmu.
herSTART is an initiative implemented by the Gujarat University Startup and Entrepreneurship Council (GUSEC).
It is supported by the state government of Gujarat, the Central Government and the United Nations International Children's Emergency Fund (UNICEF).
The Department for Promotion of Industry and Internal Trade (DPIIT) recognized it as key driving initiative of the Gujarat Startup Ecosystem in the States Startup Rankings Framework Report of 2022.
The purpose of herSTART is to aid women-led startups to scale up.
It will connect women-led startups with private and government platforms.
It provides free online resources and training modules to aspiring women entrepreneurs in addition to a digital community and digital publication showcasing their success stories.
It includes the herSTART Incubator (a startup incubator focusing specifically on women entrepreneurs and innovators) as well as herSTART Accelerator (a round-the-year accelerator programme for high-impact women-led startups).
As part of herSTART, online and offline modes of engagements have been organized for over 15,000 women entrepreneurs.