Hope: UAE's First Mission To Mars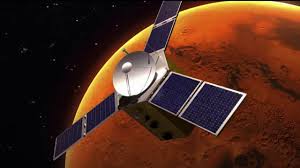 HOPE Mission- the first Arab interplanetary mission is expected to reach Mars' orbit on Tuesday in what is considered the most critical part of the journey to unravel the secrets of weather on the Red Planet.
The Hope mission is a Mars orbiter spacecraft, which will study the thin atmosphere of Mars.
The mission is officially named the Emirates Mars Mission (EMM) and the orbiter has been named Hope or 'Al Amal'.
It is the first interplanetary mission for the Arab World.
The Hope probe has a mission life of one Martian year, which is almost two Earth years.
The three main objectives of the Hope probe are:

to understand the climate dynamics and global weather map of Mars by studying the lower atmosphere of Mars.
to explain how the weather of Mars affects the escape of hydrogen and oxygen, by correlating conditions in the lower and upper atmosphere.
to understand the presence and variability of hydrogen and oxygen in the upper atmosphere, and why Mars is losing these gases to space.