G-20 Summit: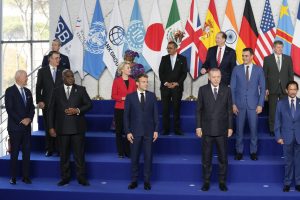 India pushed for "safeguarding the interests of the developing world" as Prime Minister Narendra Modi addressed the G-20 summit at sessions on climate change and sustainable development, said G-20 Sherpa and Commerce Minister Piyush Goyal.
No time-bound agreements were reached as leaders of the world's top economies ended the summit in Rome, recommitting to providing $100 billion a year to counter climate change, and pushing for greater vaccine equality to fight the COVID-19 pandemic.
G-20 countries also committed to ending international financing for all new coal plants by the end of 2021, but made no mention of domestic commitments on ending coal power generation.
The final communique, agreed upon after negotiations overnight, spoke only of the "key relevance of achieving global net zero" on carbon emissions "by or around mid-century".
Amongst the other highlights of the statement was a decision to pursue the recognition of more vaccines by the World Health Organization under a "One Health approach" for the world, and providing finances and technology for vaccine production at "mRNA Hubs" in South Africa, Brazil and Argentina, and to mobilise more international public private financing for "green" projects.
UN Secretary General Antonio Guterres said the failure of the G-20 summit to set a specific date for countries to achieve "Net Zero" carbon emissions had left his hopes "unfulfilled" but "not buried", as the joint communique set the stage for tough negotiations at the COP26 Climate Change summit in Glasgow that begins on Monday.
The 2021 G20 Rome summit was the sixteenth meeting of Group of Twenty (G20), that took place in Rome, the capital city of Italy, on 30–31 October 2021.