Himalayan Griffons : Protection Status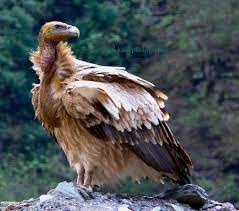 Himalayan Griffons died of suspected poisoning in Assam
The Himalayan Griffon Vulture, Gyps himalayensis, is an Old World vulture in the family Accipitridae, which also includes eagles, kites, buzzards and hawks.
It is closely related to the European Griffon Vulture, G. fulvus.
This vulture is a typical vulture, with a bald white head, very broad wings, and short tail feathers.
It has a white neck ruff and yellow bill and the whitish body and wing coverts contrast with the dark flight feathers.
Protection Status:
IUCN Red List: Near Threatened (NT)
The Himalayan vulture mostly lives in the Himalayas on the Tibetan plateau (India, Nepal and Bhutan, central China and Mongolia).
It is also found in the Central Asian mountains (from Kazakhstan and Afghanistan in the west to western China and Mongolia in the east).
Occasionally it migrates to northern India but migration usually only occurs altitudinally.