Darjeeling Himalayan Railways: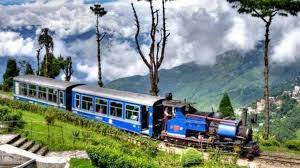 Concerns were raised against the Centre's proposed monetisation of the Darjeeling Himalayan Railways (DHR)
There are four fully functional and operational railways networks in mountains and hilly terrains in India — the Darjeeling Himalayan Railway (DHR) located in the foothills of the Himalayas in West Bengal; the Nilgiris Mountain Railways located in the Nilgiri Hills of Tamil Nadu; the Kalka Shimla Railway located in the Himalayan foothills of Himachal Pradesh; and the Matheran Railway located in Maharashtra.
DHR was built in the British era between 1879 and 1881; the Darjeeling toy train was declared a UNESCO World Heritage Site in 1999.
The main reason for the protest is that private companies' focus would be on profit, and local aspirations of the people would be ignored.
Concerns have also been raised on how the government has taken this decision in an unilateral manner without consulting the stakeholders involved
Government should consult the stakeholders involved and create guidelines to meet their aspirations in a mutually beneficial manner.
World Heritage Site:
A World Heritage site is classified as a natural or man-made areaor a structure that is of international importance, and a space which requires special protection.
These sites are officially recognised by the UN and the United Nations Educational Scientific and Cultural Organisation, also known as UNESCO.
UNESCO believes that the sites classified as World Heritage are important for humanity, and they hold cultural and physical significance.