Himalayan Yaks: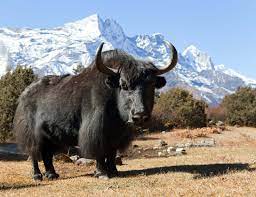 The National Research Centre on Yak (NRCY) at Dirang in West Kameng district, Arunachal Pradesh, has tied up with the National Insurance Company Ltd. for insuring their livestock.
The insurance policy would shield the yak owners against the risks posed by weather calamities, diseases, in-transit mishaps, surgical operations and strikes or riots.
According to the policy, the owners would have to get their yaks ear-tagged and provide a proper description in order to get their animals insured.
About Himalayan Yaks:
Yak is accustomed to very cold temperatures and can up to minus 40 degrees.
Two other prominent nomadic communities engaged in yak rearing are Changpas and Dokpas in Ladakh, Sikkim and Himachal Pradesh.
Currently considered to be Vulnerable by the IUCN.
The number of yaks across the country declined by almost 24.7% between 2012 and 2019.
Yak population in India is found in Union Territories of Ladakh and Jammu and Kashmir, Arunachal Pradesh, Sikkim, Himachal Pradesh, West Bengal and Uttarakhand.
IUCN Red list status: Vulnerable
Listed under Appendix I of CITES
Indian WildLife (Protection) Act of 1972: Schedule II