Multilateral Maritime Exercise La Perouse: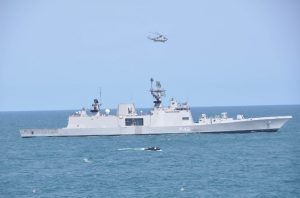 Indian Navy Ships INS Satpura and INS Kiltan along with P8I Long Range Maritime Patrol Aircraft are participating, for the first time in multilateral maritime exercise La Pérouse, being conducted in the Eastern Indian Ocean Region from 5th to 7th April 2021.
Post conduct of La Perouse, the Indo-French Naval exercise "Varuna" is scheduled in the Western Indian Ocean, wherein UAE too shall be participating.
About the Exercise:
The first edition of La Pérouse joint exercise, initiated by France in 2019, included ships from Australia, Japan, and the US.
The exercise is named after the eighteenth-century French Naval explorer.
India's participation in 2021 completed the QUAD force representation in the French-led Naval Exercise.
QUAD is a grouping of India, USA, Australia and Japan which aims to safeguard the interests of democratic nations in the Indo-Pacific region and address global challenges.
It will witness complex and advanced naval operations including surface warfare, anti-air warfare and air defense exercises, weapon firing exercises, cross deck flying operations, tactical maneuvers, and seamanship evolutions such as replenishment at sea.
It will provide an opportunity for these five like-minded, high-end naval forces to develop closer links, sharpen their skills, and promote maritime cooperation throughout a free and open Indo-Pacific.