Black Softshell Turtle: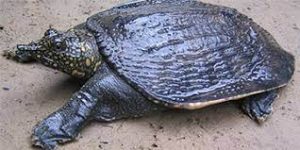 The Assam forest department has signed a Memorandum of Understanding (MoU) with two Non-governmental Organizations (NGOs) and adopted a Vision Document to raise at least 1,000 black softshell turtles by 2030.
About Black Softshell Turtle:
Scientific Name: Nilssonia nigricans
They look almost the same as the Indian peacock softshell turtle (Nilssonia hurum), which is classified as Endangered in the IUCN Red List.
Habitat:

A freshwater species and there are 29 species of freshwater turtles and tortoises found in India.
They are found in ponds of temples in northeastern India and Bangladesh. Its distribution range also includes the Brahmaputra River and its tributaries.

Protection Status:

IUCN Red List: Critically Endangered
CITES: Appendix I
Wildlife (Protection) Act, 1972: No legal protection

Threats:

Consumption of turtle meat and eggs, silt mining, encroachment of wetlands and change in flooding pattern.