IAC Vikrant: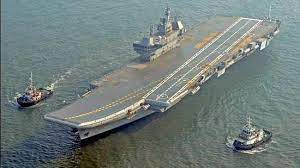 After two successive high profile visits – the President and Vice President of India – within a span of less than two weeks, IAC Vikrant is heading out for the next set of sea trials.
While the maiden sea trials in August last year were to establish propulsion, navigational suite and basic operations, the second sea trial later in October-November witnessed the ship being put through its paces in terms of various machinery trials and flight trials.
INS Vikrant, also known as Indigenous Aircraft Carrier 1 (IAC-1), is an aircraft carrier constructed by the Cochin Shipyard Limited (CSL) for the Indian Navy.
It is the first aircraft carrier to be built in India.
It is named 'Vikrant' as a tribute to India's first aircraft carrier, Vikrant (R11).
The name Vikrant means "courageous".
The motto of the ship is "Jayema Saṁ Yudhi Spr̥dhaḥ", which is taken from Rigveda and means "I defeat those who fight against me".
Vikrant is scheduled to be commissioned into service by August 2022, with flight trials of aircraft expected to be completed by mid-2023.