Samudrayaan Project : First Mission To Explore Ocean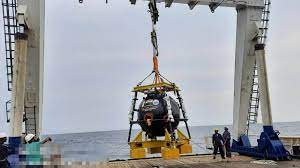 Union Minister of Earth Sciences recently said that India's ambitious Samudrayaan project is set to send three personnel to a depth of 6000 meters in a submersible vehicle.
Samudrayaan Project is India's first manned mission to explore the deep ocean.
It is designed to study the deep ocean resources and conduct biodiversity assessments as well.
The mission will not disturb the ecosystem as the submersible is used solely for exploration purposes.
The project is part of the larger Deep Ocean Mission, which supports the Central Government's Blue Economy policy.
The Ministry of Earth Sciences (MoES) is the nodal ministry to implement this multi-institutional ambitious mission.
MATSYA 6000 is a manned submersible vehicledeveloped by the National Institute of Ocean Technology (NIOT), Chennai.
It was developed under the Samudrayaan mission to facilitate humans in the deep ocean in exploring mineral resources.
It is designed with the capability of operating in the deep sea for 12 hours while in case of emergency, it can also operate up to 96 hours with all the necessary measures for human safety.
Expected to be launched in 2024-25, it would make India only one among six countries (US, Russia, Japan, France, and China) to have piloted a crewed under-sea expedition beyond 5,000 metres.