INS Vikrant: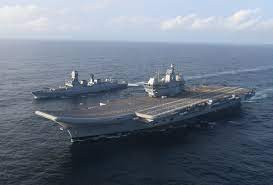 The commissioning of India's first Indigenous Aircraft Carrier (IAC-1) into the Navy as INS Vikrant marks a defining moment.
The first ever aircraft carrier to be indigenously designed and constructed, INS Vikrant will strengthen the country's standing as a 'Blue Water Navy' a maritime force with global reach and capability to operate over deep seas.
With it, India also joins the elite group of nations – the US, Russia, France, the UK and China – who are capable of designing and constructing aircraft carriers.
Also, with a displacement of 43,000 tonnes when fully loaded, INS Vikrant is set to be the seventh largest among the carriers or carrier classes in the world.
INS Vikrant, with pennant number R11, was the first-ever aircraft carrier that was operated by the Indian Navy.
The ship was officially laid down in 1943
The plan for building an indigenous aircraft carrier started taking shape as the old INS Vikrant neared its decommissioning in the late 1990s.