SKOCH Award: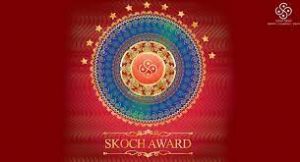 The project named Mission Parvarish to combat malnourishment among children aged six months to five years has earned the SKOCH Award for southern Assam's Cachar district.
The programme was launched during the "nutrition month" in 2020.
The programme entailed a coordinated socio-economic approach for malnourished children of families below the poverty line.
Government agencies, local civic bodies, NGOs and businessmen had come together to provide nutritional support to such children.
The Award instituted in 2003, SKOCH Award recognises people, projects and institutions that go the extra mile to make India a better nation.
The Award is presented by the 'Skoch Group' for best efforts in digital, financial and social inclusion.
It is given in the areas of digital, financial and social inclusion; governance; inclusive growth; excellence in technology and applications; change management; corporate leadership; corporate governance; citizen service delivery; capacity building; empowerment and other such softer issues.