Trial Of India's First Indigenous Aircraft Carrier (IAC) Vikrant: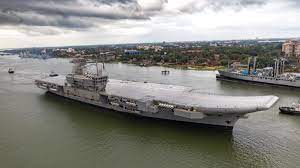 Prime Minister Narendra Modi congratulated the Indian Navy and Cochin Shipyard Limited for the maiden sea trial of India's first indigenous aircraft carrier (IAC) Vikrant.
With a planned induction of Vikrant in less than a year, India is set to join a select group of countries having the capability to indigenously design and build an aircraft carrier.
Vikrant is named after the Majestic-class aircraft carrier which was operated by the Indian Navy from 1961 to 1997.
IAC-1 has been designed by the Indian Navy's Directorate of Naval Design (DND), and is being built at Cochin Shipyard Limited (CSL), a public sector shipyard under the Ministry of Shipping.
This is the first aircraft carrier designed and built in India. An aircraft carrier is one of the most potent marine assets for a nation, which enhances a Navy's capability to travel far from its home shores to carry out air domination operations.
India's earlier aircraft carriers were either built by the British or the Russians.
The INS Vikramaditya, currently the Navy's only aircraft carrier that was commissioned in 2013, started out as the Soviet-Russian Admiral Gorshkov.
The country's two earlier carriers, INS Vikrant and INS Viraat, were originally the British-built HMS Hercules and HMS Hermes before being commissioned into the Navy in 1961 and 1987 respectively.