iDEX And Defence India Start-Up Challenge: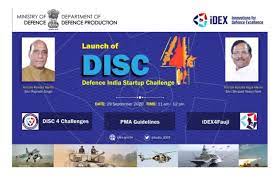 Innovations for Defence Excellence (iDEX), the flagship initiative of Department of Defence Production, Ministry of Defence, has reached a milestone with the signing of its 150th contract.
The contract relates to an Indian Navy project of the Defence India Start-up Challenge (DISC 7) SPRINT edition.
iDEX, launched in 2018, is an ecosystem to foster innovation & technology development in Defence and Aerospace by engaging innovators & entrepreneurs to deliver technologically advanced solutions for modernizing the Indian Military.
It provides funding/grants to Micro Small and Medium Enterprises (MSMEs), start-ups, individual innovators, R&D institutes and academia to carry out research and development.
The iDEX-Prime aims to support projects requiring support beyond Rs 1.5 crore up to Rs 10 crore, to help ever-growing start-ups in the defence sector.
iDEX portal was launched to provide wider publicity and better visibility of iDEX activities and enable more efficient running of future challenges through better information management.
Objectives:

Rapid development of new, indigenized and innovative technology.
Creates a culture of engagement with innovative startups to encourage co-creation.

Funding:

iDEX is funded and managed by "Defence Innovation Organisation (DIO)".

iDEX has been awarded the prestigious Prime Minister Award for Public Policy in Innovation Category for the year 2021.