HPV Vaccine For Cervical Cancer: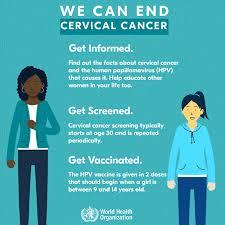 India is expected to roll out the indigenously developed CERVAVAC vaccine for the prevention of cervical cancer among girls aged 9-14 years through their schools by mid-2023.
The decision was based on the National Technical Advisory Group for Immunisation (NTAGI) recommendation to introduce the Human Papillomavirus (HPV) Vaccine in the Universal Immunisation Programme.
CERVAVAC:
It is India's first indigenously developed quadrivalent human papillomavirus (qHPV) vaccine that is said to be effective against four strains of the virus – Type 6, Type 11, Type 16 and Type 18.
A quadrivalent vaccine is a vaccine that works by stimulating an immune response against four different antigens, such as four different viruses or other microorganisms.
CERVAVAC is based on VLP (Virus-Like Particles), similar to the Hepatitis B vaccination.
The vaccine has received the Drugs Controller GeneraI of India's approval and has been cleared by the government advisory panel NTAGI for use in the public health programme.
It has a significant potential to eliminate cervical cancer and it would be helpful if included in national HPV vaccination efforts and offered at a lower cost than existing vaccinations.
The vaccine is extremely effective only when it's administered before the first sexual intercourse.