Ikki Jathre : Festival Of Rice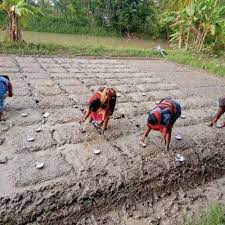 A Kerala-based organisation, Thanal launched the Ikki Jathre or the Festival of Rice in tribal parlance whereby 300 climate-resilient varieties of traditional rice were planted at Panavally, Wayanad.
Thanal initiated the Rice Diversity Block (RDB) at Panavally under the Save Our Rice campaign in 2009, with a collection of 30 varieties of rice which now expanded to 300.
The initiative aims to sensitise people to the significance of conserving traditional crops that have the ability to withstand harsh climatic conditions.
The festival also sets the stage for knowledge sharing and co-creation of knowledge between tribal farmers and experts.
For the RDB, most of the varieties were collected from Kerala, Karnataka, Assam, Tamil Nadu, Arunachal Pradesh, Maharashtra and West Bengal.
Also, there are three traditional rice varieties from Vietnam and Thailand.