What Are Stablecoins?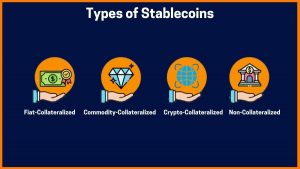 The US is discussing launching a formal review into whether Tether and other stablecoins threaten financial stability.
The first stablecoin, created in 2014, was Tether.
A stablecoin is a type of cryptocurrency that is typically pegged to an existing government-backed currency.
A cryptocurrency is a form of digital asset based on a network that is distributed across a large number of computers.
Stablecoins hold a bundle of assets in reserve, usually short-term securities such as cash, government debt or commercial paper.
Stablecoins are useful because they allow people to transact more seamlessly in cryptocurrencies that function as investments, such as Bitcoin.
They form a bridge between old-world money and new-world crypto aslo they promise to function like perfectly safe holdings.
Types:
Fiat-collateralized Stablecoins:
They are collateralized by fiat money, such as the US dollar, euro or the pound, on a 1:1 ratio.
Examples: Tether, Gemini Dollar, and TrueSD.
Stablecoins Backed by Other Assets:
There are a few stablecoins, which are backed by a basket of multiple assets (commercial papers, bonds, real estate, precious metals, etc).
The value of these stablecoins can fluctuate over time subject to movement in commodity and precious metal prices.
Example: Digix Gold, backed by physical gold.
Crypto-Collateralized Stablecoins:
Crypto-collateralized stablecoins are more decentralised than their peers and are backed by cryptocurrencies.
The flipside is price volatility and to address the risk of price volatility, these stablecoins are over-collateralized.
Example: Dai.
Non-collateralized stablecoins:
These stablecoins do not have any backing and are decentralized in the true sense and the supply of non-collateralized stablecoins is governed by algorithms.
Example: Basis.