Supply Chain Resilience Initiative (SCRI):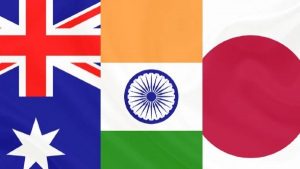 In a move to counter China's dominance of supply chain in the Indo-Pacific region, trade ministers of India, Japan and Australia have formally launched the Supply Chain Resilience Initiative (SCRI).
The SCRI aims to create a virtuous cycle of enhancing supply chain resilience with a view to eventually attaining strong, sustainable, balanced, and inclusive growth in the region.
Initially, SCRI will focus on sharing best practices on supply chain resilience and holding investment promotion events and buyer-seller matching events to provide opportunities for stakeholders to explore the possibility of diversification of their supply chains.
The SCRI aims to reduce dependence on China amid a likelihood of rechurning of supply chains in the Indo-Pacific region amid the Covid-19 pandemic.
It seeks to build upon the existing bilateral frameworks like the Asean-Japan Economic Resilience Action Plan and India-Japan Industrial Competitiveness Partnership and attract foreign direct investment in the region.
Possible policy measures under the initiative may include:
supporting the enhanced utilization of digital technology.
supporting trade and investment diversification.