ShramShakti: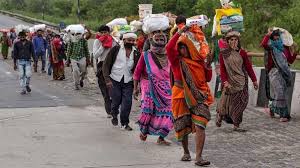 The Union Minister of Tribal Affairs launched "ShramShakti", a National Migration Support Portal at a program held at Panjim, Goa.
It would effectively help in the smooth formulation of state and national level programs for migrant workers.
The tribal migration repository, ShramShakti would be able successfully able to address the data gap and empower migrant workers who generally migrate in search of employment and income generation.
The various data that will be recorded via Shram Shakti include demographic profile, livelihood options, skill mapping, and migration pattern.
He also launched a tribal migration cell, a tribal museum at Goa, and "ShramSaathi", a training manual for migrant workers.
With this, Goa is going to be the first destination state of India to set up a dedicated migration cell to address diverse issues of migrant workers.