Joymoti Konwari: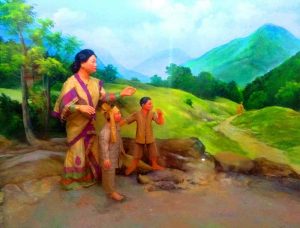 Prime Minister Narendra Modi is scheduled to visit Assam on January 23. The venue for Modi's program is the historic Jerenga Pothar in Upper Assam's Sivasagar district.
Formerly known as Rangpur, Sivasagar was the seat of the powerful Ahom dynasty, which ruled Assam for six centuries (1228-1826).
Jerenga Pothar, an open field in Sivasagar town, is popularly connected to the valour of 17th century Ahom princess Joymoti.
The place Joymoti was tortured to death was Jerenga Pothar.
Joymoti Konwari:
Joymoti Konwari, was the wife of Tai-Ahom Prince Gadapani (later Supatphaa).
She was accorded the honorific Mohiyokhi on account of her heroic endurance of torture until the end, dying at the hands of royalists under Sulikphaa Loraa Roja without disclosing her exiled husband Prince Gadapani's whereabouts, thereby enabling her husband to rise in revolt and assume kingship.
Gadapani and Joymoti's son Rudra Singha had the Joysagar Tank dug at the spot where she was tortured.